1. Using the tags and labels of the google vision API to write a story, keeping the values of probabilities:
There was a "Transparent material (0.8458479)" in the "Water (0.8073041)" "Glass (0.66464984)", perhaps "Sky (0.5326111)" or "Steel (0.5102375)". My "Black (0.96300036)" and "White (0.95470667)", "Monochrome (0.8530873)", life. "Darkness (0.83082676)" is mostly what I knew. I wished for "Sunlight (0.66977245)" to hold my "Hand (0.721658)", or for a nice "Person (0.5684042)" to come around. In "Close-up (0.7843409)", everything looks the same. In this "Room (0.6566393)" I'll die. How sad, like a "Plastic wrap (0.5424042)" or "Packaged goods (0.578561)". Moving no "Muscle (0.6424194)", I will stop. An "Insect (0.8102212)" is more probable than me. Lost in "Space (0.73160774)", dismantled into "Auto part (0.61177397)"s, I cry softly. I try to remember how "Wool (0.9254733)" feels like, but no use… My senses meet a "Wall (0.7999515)". Will I ever stop to be lonely?
2. creating an installation with objects, inpired by the story: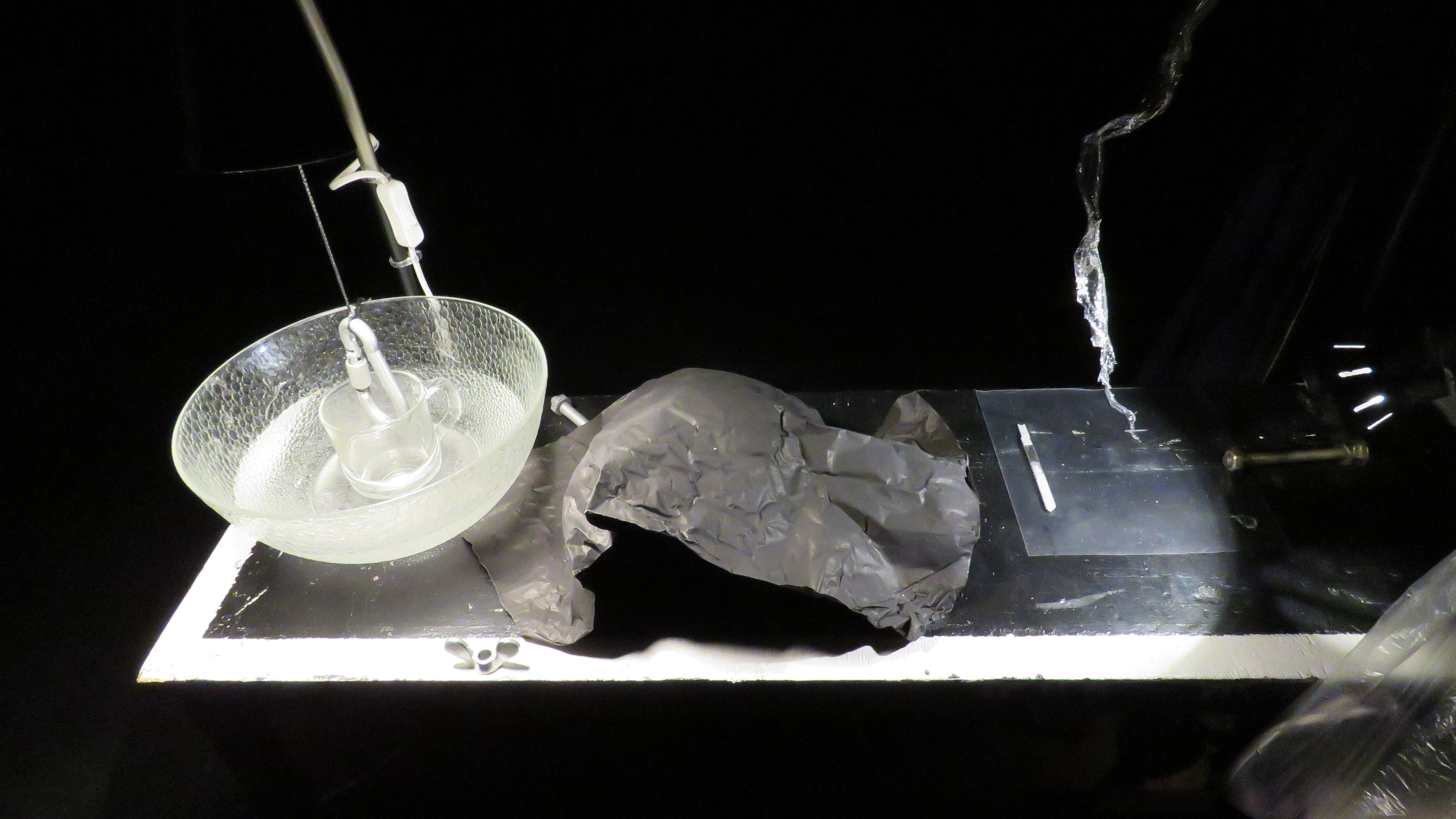 3. creating a video-essay of text&objects: watch here
4. feeding the google API with the pictures of the installation, receiving higher certainty recognition of objects, writing a new tory:
I did not know much else than the "Black-and-white (0.90980256)" "Room (0.71392286)". How could I? There was "Light (0.9027224)" and "Darkness (0.89048916)" but not so much more. I was sitting next to my "Night (0.6817376)" "Table (0.6722553)", trying to make sense of "Photography (0.73799706)". The "Transparent material (0.5020536)" that I might am or might not, lost in "Space (0.5419734)". The "Furniture (0.73779374)" around me spinning with only a "Lantern (0.70587707)" as my guide. How will I pass this "Night (0.83534986)"? It was "Crystal (0.817184)" clear to me then — I must "Dress (0.6146649)" up and go out into the "Street light (0.74659723)".
—> would it be interesting to build another installation, and so on?